Smiltene district Tourist Information Centre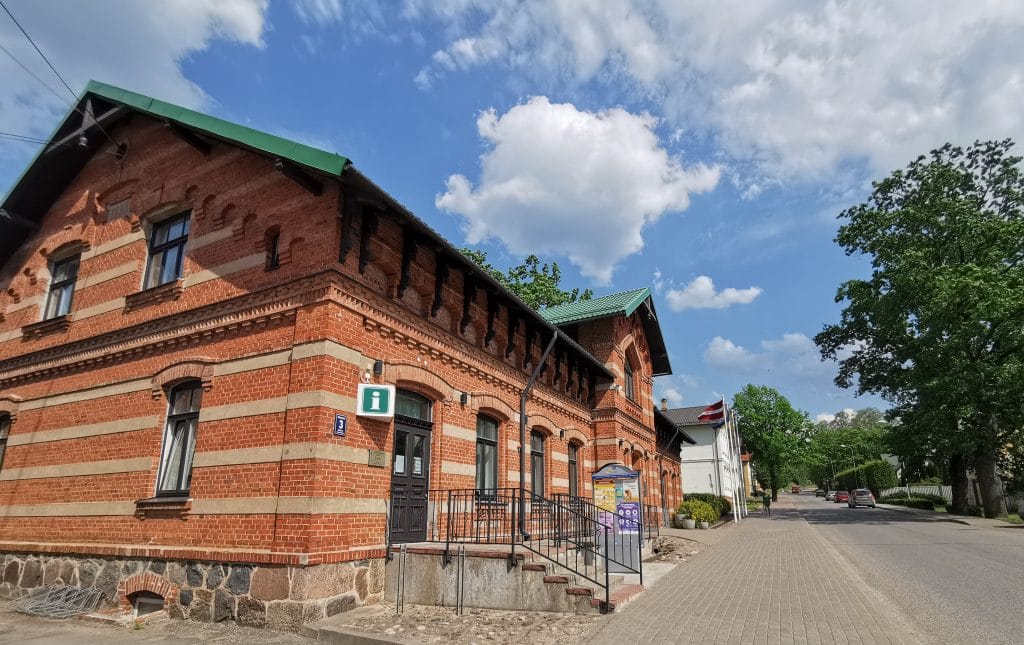 The city and region of Smiltene is a place where the joy of eyes and heart can enjoy the splendor and majesty of nature, where you can feel the truly Latvian spirit and hospitality of the locals. This is a place to have a good time, gain strength and gain new and pleasant emotions!
Surrounded by mighty pine forests, low-rise buildings in the gardens, city parks, the rapid Abuls River and many lakes.
Welcome to Smiltene!
---
Services provided by Smiltene Region Tourism Information Center:
For those interested and visitors
Smiltene region souvenir trade;
Production and sale of Smiltene district calendar;
Sale of books published by Smiltene County Council and institutions;
Free internet access point;
Paid services – printing, copying and scanning;
Assistance in booking tickets for air and other modes of transport;
Assistance in checking in for a flight, receiving boarding passes;
Consultations on Tourism opportunities and services:

Smiltene region (free editions and maps available);
Latvia, Lithuania and Estonia (free editions and maps available);
Elsewhere in Europe and the world, information on where to find information;

Consultations in compiling an excursion route through Smiltene region;
Provision and provision of guide services;
Organization of active recreation events:

Winter-spring hike "Foot in the spring";
Bicycle rides "Cycle in summer";
Cycling in "Fall in Autumn":
Hike "Spocīns jocīns";
Tourism rally, etc.
For entrepreneurs in the tourism industry
Consultations on tourism issues (on tourism, hospitality, advertising and marketing, legislation, industry organizations, etc.);
Consultations on opportunities to attract financing for business promotion (both support and financing of Smiltene municipality, project competition organized by Rural Support Service, Estonian-Latvian cross-border cooperation program, Vidzeme Tourism Association, Lauku ceļotāja, Vidzeme planning region, Latvian Investment and Development Agency Tourism Department) the possibilities of the implemented projects;
Organization of information days for tourism entrepreneurs – an opportunity to learn about current events in tourism and to establish contacts with other tourism entrepreneurs;
Arranging of training and exchange trips;
Preparation, publishing and distribution of informative, representative and cartographic publications and advertising materials about the tourism offer in Smiltene region;
Ensuring regular availability of information in other Latvian tourism information centers;
Posting and disseminating information about the tourism service provider on the website visit.smiltenesnovads.lv and on social networks.
The others
Promotion of tourism development in Smiltene region;
Development of new tourism routes and offers in Smiltene region;
Providing information in person, by telephone, by e-mail;
Regular updating and maintenance of the database of tourism service providers of Smiltene region;
Creating and maintaining a positive image of Smiltene region;
Internship opportunities and consultations for students;
Compilation and analysis of tourism statistics (registration of TIC interested statistics, compilation of accommodation statistics and visit.smiltenesnovads.lv visit statistics);
Participation in international tourism exhibitions, fairs and other events:

International Tourism Exhibition "Balttour" in Riga (every year);
International Tourism Exhibition "Tourest" in Tallinn (every year);
International Tourism Exhibition "Adventure" in Vilnius (2018);
Distribution of tourism publications of Smiltene region in other exhibitions, for example, in Finland, Russia, Germany, thanks to cooperation with other tourism information centers and organizations;
Latvian tourism information fair, etc .;

Manufacture, installation and maintenance of information signs and billboards;
Cooperation with travel agencies and tour operators;
Participation in the development and implementation of projects promoting the development of tourism (Health Promotion Project, COOP Local, participation in the Green Railway project application, support for projects written and implemented by entrepreneurs in the tourism sector);
Cooperation with other organizations (Latvian Investment and Development Agency, Vidzeme Tourism Association, Latvian Association of Tourism Information Organizations LATTŪRINFO, Lauku ceļotājs);
Providing various other information about Smiltene region.
---