Hot tub rentals
"Smiltenes kubls" portable hot tub
Possibility to rent a hot tub.
Tub set includes:
Built-in jacuzzi system

LED lighting

Glass holders

External stove that comfortably allows up to 7 people to relax in the tub at the same time.
Warm-up time 1.5-3h.
Price:
Mon, Tue, Wed, Thu 50 EUR per 24 hours.
Fri, Sat, Sun 60 EUR per 24 hours.
Address: Smiltene, Pilskalna iela 5a, LV-4729
+371 25675465
www.facebook.com/SmiltenesKubls/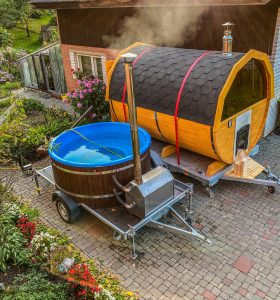 "Airītes" hot tub rental
Offers to rent a mobile hot tub.
The hot tub is a great way to enjoy water relaxation anytime, anywhere.
Up to 6 people will feel comfortable in the tub at the same time;

The diameter of the tub is 2m;

The water heats up in about 2-2.5 hours (depending on the weather);

The tub trailer can be towed with category B rights.
Rental price of the hot tub "Airītes":
Mon, Tue, Wed, Thu 50 EUR / 24h;
Fri, Sat, Sun 60 EUR / 24h;
On public holidays by arrangement.
Delivery in Smiltene and within 20 km from Smiltene is already included in the price, for further distances 0.30 EUR per km.
Address: Bilskas pagasts, Smiltenes novads
Phone: +371 29192283, +371 28734458
E-mail: [email protected]
www.facebook.com/kubliits
www.instagram.com/kubliits/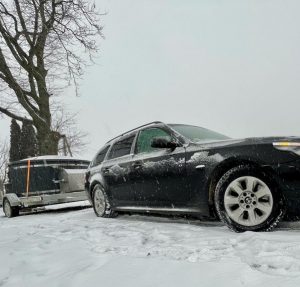 Hot tub rental in Rauna
Portable tub – a great opportunity to enjoy a warm bath in the fresh air almost anywhere and anytime.
The tub is located on a car trailer – it is easy to transport, so it is convenient to enjoy it both at home and in nature or visiting friends;

Wood heating;

Diameter 180 cm;

Internal insulation.
Tub rental price: EUR 100 / day.
Delivery is offered as an additional service by prior arrangement.
Phone: +371 26162597
Sauna rentals
"Smiltenes kubls" portable sauna
Possibility to rent out a souna on wheels:
A barrel-type sauna on a trailer, that can easily be driven around with a category B driver's license;
equiped with a wood furnace and rocks;
has two levels;
an outside furnace
both inside and outside lights
A waiting room equiped with 2 benches
Time it takes to warm up to 60°C: ~30 minutes
Prices:
Mon., Tue., Wed., Thu.: 60 EUR/day
Fri., Sat., Sun.: 70 EUR/day
On holidays: +20 EUR to the regular price per day.
Adress: Smiltene, Pilskalna iela 5a, LV-4729
Contacts: +371 25675465
www.facebook.com/SmiltenesKubls/